Volksoper with new façade
For the start of Lotte de Beers first season as artistic director, the Volksoper presents itself with a renewed façade in the colour pink cyclam 5 and, since 1 September, also with new energy-saving LED exterior lighting. The concept for the redesign was created by Christof Hetzer, stage designer and visual designer for the new Volksoper, and was financed and implemented by the Bundestheater-Holding.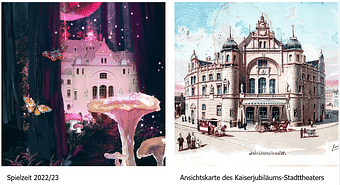 Lotte de Beer on the new façade
"I am very pleased that the Volksoper is now shining in the light it deserves as an important Viennese cultural venue. However, it is important for us to emphasise that the new LED exterior lighting of the Volksoper is extremely energy-saving and only accounts for a fraction of the energy required by the Volksoper. Nevertheless, as a federal theatre we are aware of the signal effect of outdoor lighting and our responsibility in times like these and will therefore naturally use it very carefully and reduced only just before the start of the performance and until shortly after the end of the performance."
In addition, a new, energy-saving LED lighting concept was developed. A photovoltaic system will be installed on the roof of the Volksoper in the coming months, which will cover 25% of the Volksoper's electricity needs.

Prior to the painting work, the façade, especially of the historical part of the building, was completely renovated and cleaned. Work on the façade began on 25 April and will be completed in August.