DIE DUBARRY
Season opening with new Artistic Director Lotte de Beer
Annette Dasch and Harald Schmidt kick-off rehearsals
Rehearsals for next season's first production at the Volksoper Wien have started – On Monday the leading team and soloists began rehearsing for Carl Millöcker's and Theo Mackeben's operetta Die Dubarry that will premiere on September 3rd. Director Jan Philipp Gloger explores the development of the operetta's charismatic heroine in a journey through time that begins in the present and takes us back to the times of Louis XV. Kai Tietje will conduct the excellent cast lead by world-class soprano Annette Dasch who returns to the Volksoper to shine as the King's mistress. His Majesty Louis XV will be played by no other than German comedy and talk show legend Harald Schmidt who will make his debut at the Volksoper.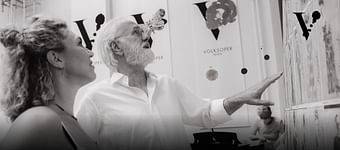 From working-class girl to the King's mistress
Die Dubarry portrays the social rise of working-class girl Jeanne Beçu to become the wealthy mistress of Louis XV. Her story is told as a series of biographical milestones, and raises questions that are still relevant today: What are the losses she suffers on her "journey to the top" and to what extent does she allow herself to be corrupted? Eventually, Jeanne has to choose between a romantic love affair with the artist René and the opportunity to become the King's mistress, forcing her not only to choose one man over the other, but also to choose an entirely different life with each of them. 
"The Weapons of a Woman"
Composed in 1879 by Carl Millöcker, Theo Mackeben's adaptation takes a fresh look at Countess Dubarry in the late 1920s. Based on the character of the historical Jeanne Beçu, Mackeben's librettists tell the story of a remarkable female protagonist who forges her own path. More than once, she succeeds by using the much-quoted "weapons of a woman".
But what do we make of the female role models that today's society has provided us with? As beautiful as the waltz may sound, do we still fully agree to the true meaning of "Cherchez la femme" uttered under the influence of alcohol? Director Jan Philipp Gloger and his artistic team are questioning and exploring the concepts and definitions of femininity through the ages and have designed a theatrical journey through time over four centuries for the new staging of Die Dubarry. It takes us from the present back to the France of Louis XV using the power of big scenery. Critically acclaimed soprano Annette Dasch sings the charismatic title character and German talk show legend Harald Schmidt takes on the role of King Louis XV.